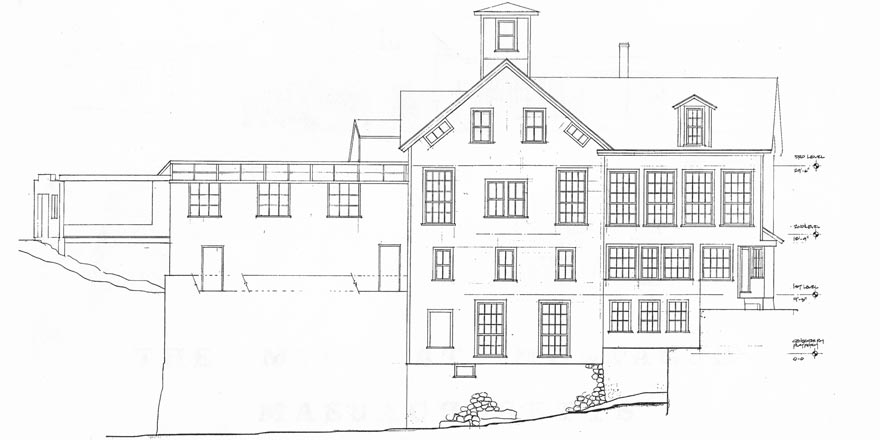 In the 1990s, Tullio Inglese was asked to investigate the structural integrity of an old mill in Montague, Massachusetts, and to prepare architectural drawings of the existing buildings. The drawings, together with schematic overlays indicating how the spaces could best be used, were the basis by which the developer acquired a construction loan from the local bank.
Construction progressed slowly within a very limited budget and, unfortunately, many details were compromised. Nevertheless, the project resulted in a successful addition to the local community. The Montague Book Mill has thousands of used books on every subject, as well as many reading areas tucked under ancient chestnut beams which were left exposed. They also host concerts and readings in an intimate room overlooking a waterfall. The building includes a crafts store, a café, an outstanding restaurant and miscellaneous other studios, also with views of the waterfall.
It has been gratifying to see further development of the interior spaces over the years as the old mill has taken on a life of its own. This is a reused structure which no longer functions for its intended purpose and which would have, most likely, been demolished otherwise or left to decompose.
At the same time, it is disheartening to see that so many of these once productive old mills powered by a non-polluting, renewable form of energy, namely water, have become extinct. They no longer employ a great number of people, as most of the products they once made — such as machine parts, baseball bats, baskets, and carriages, to name a few — have been outsourced to other countries. It is unfortunate that places of 'production', which once were of great benefit to the local and even national economies, have become places of 'consumption'.