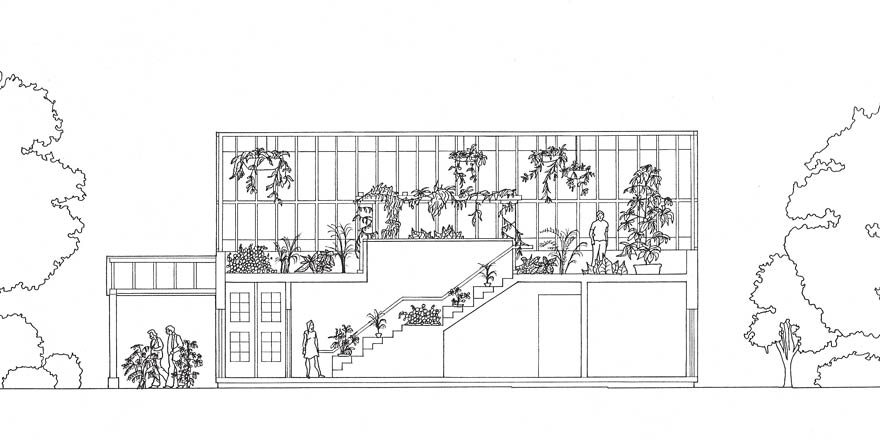 The House Under Glass (HUG) was designed with a greenhouse as its roof. In place of a cluttered attic, this house offers its residents a green getaway with plants, patio, fountain, and even a hot tub. Imagine coming home to your house at night to see a warm glow cast among adjacent trees. Picture lying in a sleeping bag, looking up at the stars, or pitching a tent in the greenhouse as an extra guest room.
HUG I roof garden

HUG II

HUG II roof

HUG II roof detail

HUG III
The idea for this particular house occurred to architect Tullio Inglese some years ago when one of his clients asked him to design a modest, passive solar house with a large adjacent greenhouse. Growing herbs, vegetables and flowers year round – which he and his wife would then sell to the local market – was a unique and important aspect of their required program. Due to unforeseen circumstances, the project was shelved, but Inglese continued to develop the design. Incidentally, the footprint of the greenhouse was nearly the same size as that of the house. As a result of this proportion, he decided to place the greenhouse on top of the house.
This would be more economical, he thought, because the greenhouse would not require a foundation, and the house would not need a roof. Furthermore, any heat loss through the roof of the house would simply help keep the plants warm. The greenhouse provides a natural extension of the living quarters – a place to sit and read, or dine with friends under the stars. Also, with regard to preserving the biosphere, a HUG is environmentally responsible. Instead of negating solar radiation with dead asphalt shingles, the roof is utilized to grow plants.
Three variations of this design are currently available. TIA Architects can modify any one of these prototypes for your particular site.