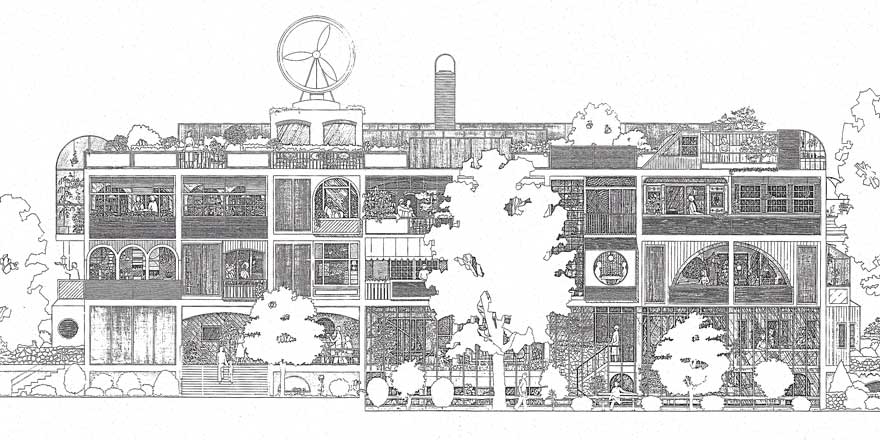 Solstice One is an attempt to integrate the privacy and individuality inherent in detached homes with the added benefits—energy conservation and prospects for communal activities—of living under one roof. Solstice One provides individuals, families and communal groups with a three dimensional framework of columns and beams within which they can design and build their own living quarters.
Solstice One functions as an independent community of approximately 150 people. The structure is a four-story building, 112 feet by 84 feet, with a glass covered central courtyard or atrium. The building is best situated near arable land, enabling its residents to grow much of their own food in private and communal gardens, as well as in a communal greenhouse. A number of sizes and configurations for the structure are possible.
Solstice One, site plan

Solstice One, main floor plan

Solstice One, living roof

Solstice One, dwelling unit

Solstice One, greenhouse section
The participatory design process—as is employed in Solstice One—is fairly complex and requires experienced guidance. Therefore, we have conducted simulations to help determine realistic parameters for cooperative design within a three dimensional structure. It has helped establish building expectations based upon health, safety, structural integrity, aesthetics, principles of energy conservation, and most importantly, a reasonable balance between community and privacy.
Our main objective as designers, architects, and builders is to house people and all their activities in the most functional, aesthetic, and ecological way. This newborn accountability for the quality of our built environment, with particular emphasis on achieving and sustaining optimal harmony between buildings and nature, signifies an important step forward in architecture. Buildings can collect, store, and generate their own energy; help people produce their own food, and become positive elements in natural landscapes. Living together under one roof—with common walls and shared goods and services—conserves land, construction material and energy.
Groups who want more information about this project should contact us !